Friday 31st July 2020
Raft Race raises £750 for Heart of Kent Hospice
Rafters from last year's River Festival raised £750 for the Heart of Kent Hospice. This was made up of £350 in entrance fees, and £400 raised in sponsorship on top of this. Most of the additional sponsorship was generously raised by one team - "The One-Eyed Walnuts" - from The Walnut Tree PH on Loose Road.
David Naghi, the River Festival Chairman, was delighted to hand a giant cheque to Sarah Pugh, the Chief Executive of Heart of Kent Hospice.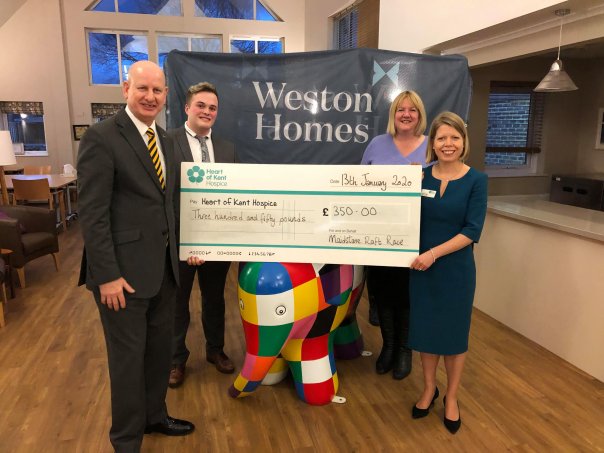 He said "We are so grateful for everything the Heart of Kent Hospice does to support families and love ones. This is the least we can do to say 'thank you' and show our support for their compassion and care for people during a difficult time".
Maidstone River Festival have supported the Heart of Kent Hospice for many years. All entry fees raised from the Raft Race goes directly to the hospice, and rafters are encouraged to raise their own money too. From next year, a new trophy ('The Heart of Kent Award') will be awarded to the raft team who raise most additional sponsorship for the Heart of Kent Hospice - this means there will be three prizes up for grabs!